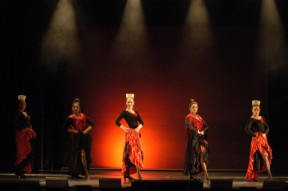 Alicia Adame grew up in Irving, Texas and graduated from Texas Christian University with a B.F.A. in ballet. She began her Flamenco studies with Maestra Conte de Loyo in Dallas and performed in her company. While attending a Flamenco dance workshop in New Mexico, she was invited to join the Jose Greco Spanish Dance Company and performed throughout the United States, Canada, and Puerto Rico. Ms. Adame relocated to Seattle, Washington to study Flamenco and classical Spanish dance with Maestra Sata De Luis and performed with Theater Flamenco, Los Flamencos de la Bodega and in her own group. She has studied Flamenco in Spain with Cire L China and Yolanda Heredia and classical Spanish with Elvira Andres, Paco Romero and Lupe Gomez. Ms. Adame was one of the original dancers with PIECES in 1992.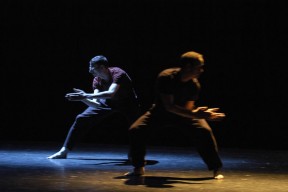 Andrea Beckham a native of Fort Worth, has been teaching and dancing for more than ten years in the international repertory of Sharir Dance Company, Bill T. Jones/Arnie Zane Dance Company, Wilson's Tallulah Dance Company, and since 1989 in her own choreographic works. As a dancer, she has been blessed to work collaboratively with all these choreographers. She was selected to perform in a work by John Mead at the Tokyo International Choreography Competition, was an award winner at the Suzanne Dellal International Choreography Competition in Israel, and has received critical acclaim for her own extensive solo work. She has presented her own work in Texas, New York, The Arts on the Hill Festival in Wyoming and the Avignon-Off Festival in France. She has taught in the university setting in the United States, as well as France, Denmark, Japan, Israel, Mexico and the Netherlands.
Kirsty Buchanan began her design career graduating from Stephens College in 1983 with a BFA in fashion design. While at Stephens College, she designed costumes for several Warehouse Theatre Productions including "Godspell". Ms. Buchanan designed shows at Okoboji Summer Theatre in Spirit Lake Iowa during the 1982 and 1983 seasons which included "On Golden Pond" and "Plaza Suite". She has since worked for better ladies sportswear manufacturers in New York, Chicago and Dallas traveling the Orient and North America. Currently she is on faculty Stephens College in Columbia, Missouri.
Michele Manley Hanlon earned a BFA in dance at the University of Arizona in 1987. In Tuscon, she performed with Orts Theatre of Dance and Tenth Street Dance Works and co-founded Some Things Happening, a multimedia performing group. In Dallas, she ahs danced with Dancers Unlimited Repertory Company and has danced and choreographed for the Dance Consortium. Her works have also been performed by Contemporary Dance Fort Worth and Elle Dance Works. She received her MFA in Modern Dance from Texas Christian University. She has served on the Board of Directors for the Dance Council and is co-director and co-founder of Elle Dance Works.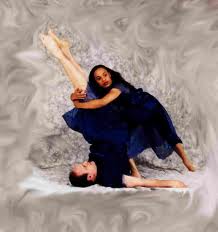 Lily Cabatu Weiss holds both bachelor's and master's degrees in dance from Texas Woman's University. Weiss served as the Dance Department Chair for Booker T. Washington High School for Performing and Visual Arts. She has also been on the dance faculties at Southern Methodist University and Houston's High School for the Performing and Visual Arts. As an independent artist, she has performed works by Andrea Beckham, Michael Kelly Bruce, Martha Curtis,
David Hochoy, Sherry Lacey, Heywood "Woody" Mc Griff, John Mead, Luis Montero, John Mullins, Douglas Nielsen, Yacov Sharir and Holly Williams. She has choreographed extensively throughout Texas, received the Texas Choreographer's Award from the Texas Commission on the Arts, and has been guest choreographer for four seasons for Washington Square Repertory Company at New York University. Her work has been toured throughout the United States and Peru with Dallas Black Dance Theatre, to the Czech Republic with PIECES, and at New York University. She has performed with artists throughout Texas and the United States and has appeared with Michael Kelly Bruce at Ohio State University and John Mead at the Min-On International Choreography Competition in Japan. She has served as the Chair of the Performing Arts Peer Review Panel for the Texas Commission on the Arts and was awarded the Kitty McGee distinguished Alumna Award , Outstanding Educator by the Asian Chamber of Commerce and the Rockefeller Foundation, and 1996 Dance Educator from TAPHERD. In 2000, the commission on Presidential Scholars honored her at the White House for the sixth time as a Distinguished Teacher. She has trained many students who are performing in dance companies both nationally and internationally.